Home
> Clearance Restaurant Furniture
Restaurant Clearance Restaurant Furniture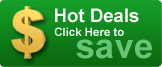 There is no better place to find great deals on clearance restaurant furniture than A1 Restaurant Furniture. We offer high-quality items like wood table tops, a variety of table bases, dining chairs, barstools, and more for your restaurant space needs. Best of all, these restaurant furniture items are available to you at incredibly low prices.

We pride ourselves on providing a wide selection of restaurant furniture built to last, with quality materials and durable design. Our large inventory is made to fit the needs of all types of spaces, including trendy, modern, and casual. For hotels, schools, cafés, and bars, almost no space is off limits when you shop with A1. All styles and all budgets can be happy when shopping with us!

Our inventory of clearance restaurant furniture changes often, so you want to shop often for the best selection. If your needs are casual and light, you can mix things up a bit by choosing different barstools for your restaurant space to add to the ambiance. If it is better for you to have a uniform look, check out our selection of quality vinyl dining chairs.

Our customer service representatives are happy to answer any questions you may have; they depend on years of experience in the restaurant furniture business to assist you. We are also proud to offer our Deal of the Week, convenient shipping options, and the lowest prices around for restaurant furniture.

All of our products are designed with your needs in mind. Items are crafted from quality materials so that they last for a long time. Normal wear and tear on restaurant furniture is normal, and when replacement parts become necessary, we have a wide selection available.

Whether you manage a local coffee shop or a cafeteria full of students, A1 is confident in our product line and its ability to meet your service needs. Browse our selection of clearance restaurant furniture to fill your space today. When you partner with us, we can bring you the best deal at the best price. You do not need to shop around when you shop A1 Restaurant Furniture!


Restaurant Table Tops, Restaurant Patio Furniture, Clearance Restaurant Furniture